Stompin' Steve Hathaway

Steve Hathaway was born in Fort Wayne, Indiana in 1948. As "Stompin' Steve" he has hosted the weekly radio program "The Cupertino Barndance" since 1972 on KKUP radio in Cupertino, California. The program features classic country music (50's and 60's honky tonk, western swing, bluegrass, rockabilly, and anything contemporary that fits).

Stompin' Steve is an avid country music collector with an extensive library of books, records (all formats: 78's, 45's, LP's, CD's, 16 inch transcriptions), photographs, 16mm films, and videos of country and jazz music. He has contributed to the liner notes and discographies, supplied photos, and received acknowledgements on several western swing record reissues on such labels as Old Timey, Rambler, Western, Rhino, Country Routes, Bear Family, and Franklin Mint. Clips from his film collection including those of Bob Wills have been used in television documentaries on PBS and TNN. Clips of his Cindy Walker films were used, at her request, for her induction into Country Music Hall of Fame during CMA Awards Show on CBS. He has also contributed biographies for The Encyclopedia of Country Music (Oxford University Press) for Billy Hughes, Smokey Rogers, Billy Jack Wills, and Luke Wills.

He has tirelessly promoted western swing through his radio program, hosting many bands live on-air including Smith's Ranch Boys, The Saddle Cats, West Coast Ramblers, and The Lone Star Retrobates. For many years he published the Western Swing Newsletter, an occasional aimed at record collectors and western swing music aficionados. His current website westernswing.com continues that effort with calendar and links to western swing events, bands, organizations, recordings, books and videos. He has appeared on KPFA with Tom Diamant for a Bob Wills centennial program, on KFJC twice with John Fletcher for day long Cindy Walker Specials, and shown a full length western swing film presentation at San Francisco State as part of it's Bob Wills Centennial Celebration.

Currently, besides his radio show, he maintains an online music calendar of rockabilly, western swing, & country shows for the greater San Francisco Bay Area. http://www.hickswithsticks.com

Stompin' Steve's education background includes an A.A. in Liberal Arts from Foothill College, a B.A. in History from San Jose State University, and a lifetime Standard Teaching Credential - Secondary. He retired from the United States Postal Service as a letter carrier after over 38 years of service.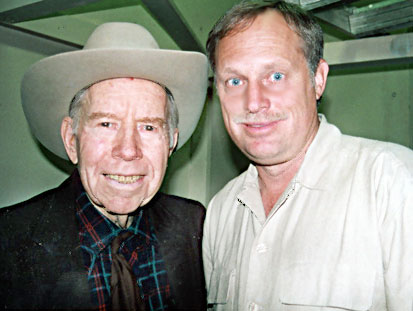 Floyd Tillman and Stompin' Steve
Brady, Texas - March 2000